An article posted on June 2, 2020 by the celebrity news/gossip site Nickiswift.com was titled, "The untold truth of Mike Tyson's wife."  Months prior, another website posted an article titled, "7 Takeaways From The Mike Tyson Interview With T.I." (rapper and entrepreneur T.I. hosts a podcast called "expeditiously").  Each article discusses the courtship between the boxing legend and Lakiha "Kiki" Spicer, who began dating in 2000.  Each piece also includes the following quote by boxing promoter Don King (emphasis added): "Stay away from her. Don't go talking to that girl. Leave these people alone. These are not the people to mess with."  Each article notes this concern stemmed from concerns about Kiki's father, Shamsud-din Ali, who is described – verbatim in each – simply as "an influential Muslim cleric in Philadelphia."  These articles rely upon a 2012 New York Post article, "Tyson: Third marriage him turn life around", for the quotes and the context.  Importantly, the Post article offers nothing further re Shamsud-din and these circumstances than do the others relying upon it.
What is fascinating – though tragically predictable by now – is that none of these three pieces addresses the elephants in the room, namely (1) why should Kiki have avoided someone merely described as "an influential Muslim cleric"?; (2) who did Don King mean by "these people"; and (3) why were they not to be "messed with"?
As I have written elsewhere in a related commentary about Muhammad Ali's significant ties to the underworld:
The answers to those compelling questions fill many pages of my work on Philadelphia's Black Mafia over the past 20 years…Unfortunately for someone trying to get a concise read on this complex and controversial history, these issues are all inter-related and thus require considerable explanation.
Shamsud-din Ali, who took over Philadelphia's notorious Nation of Islam Temple 12 in 1976 following the demotion of the NOI's influential and feared Jeremiah Shabazz, was a Black Mafia leader formerly known as Clarence Fowler.  Fowler (who was a captain in the paramilitary Fruit of Islam under Shabazz at the time) was convicted of a 1970 murder and served a few years in prison before his conviction was overturned by a divided Pennsylvania Supreme Court (a re-trial was ruled out by officials when the key witness against him refused to participate, supposedly after being visited by Black Mafia henchmen).  While in Philly's corrupted Holmesburg Prison, Fowler was an influential figure inside the institution and on the street; he returned to society as Shamsud-din Ali.
Immediately following his 1976 release from prison, informants described Shamsud-din continuing the Black Mafia extortion racket, and in the late 1990s he became the subject of a massive federal narcotics investigation when wholesalers for a drug-dealing rap group (with Black Mafia origins) named RAM Squad discussed his alleged role on wiretaps.  That probe involved an overheard conversation of Shamsud-din asking a drug wholesaler for $5,000, explaining he needed the money to give to a longtime aide to Philadelphia Mayor John Street.  The revelation spawned a separate and distinct investigation into municipal corruption that involved "pay-to-play" shakedowns and "no-show" jobs; it was discovered Shamsud-din was a major power broker in municipal contracting and his stature was acknowledged by politicians and by violent entrepreneurs, alike.  Concerning the latter, Dawud Bey (son of founding Black Mafia member Roosevelt "Spooks" Fitzgerald) was recorded complaining to another prominent drug dealer that Shamsud-din was "walking with kings and we're out here hustling."  Bey was likely referring to Shamsud-din's prominence in city politics, which included things like meeting President Bill Clinton during a visit with Mayor Street.  One of the FBI's recorded conversations involved Shamsud-din boasting about young heavily-armed drug dealers fearing him, no doubt because of the Black Mafia's legendary reputation on the street.  The drug investigation led to the convictions and/or guilty pleas of 37 people, and the corruption probe resulted in another 20 persons pleading guilty or being convicted at trial, including the City Treasurer.  In 2005, Shamsud-din was convicted of 22 counts of various racketeering and fraud charges and was sentenced to seven years and three months in prison; he was released from federal prison in December 2013.
Among those convicted in the corruption probe with Shamsud-din was his daughter, Lakiha "Kiki" Spicer, who was found guilty (along with her mother and Shamsud-din's wife, Faridah Ali, formerly Rita Spicer) in October 2004 for her role in a "ghost teacher" scam.  Incredibly, Kiki (after dating a RAM Squad member and drug dealer named Tommy Hill – birth name John Wilson – who was later killed in 2011 when it was disclosed he had cooperated with authorities) went on to marry boxing great Mike Tyson in June 2009.  She met Tyson when she was 18 years old because of Shamsud-din's relationship with Don King and thus she often attended boxing events.  Despite Don King's much-publicized warning, Kiki, who discovered she was pregnant with Tyson's child a week before she entered federal prison in April 2008 (she was released on October 30, 2008), wedded Tyson in 2009 and the couple have two children together.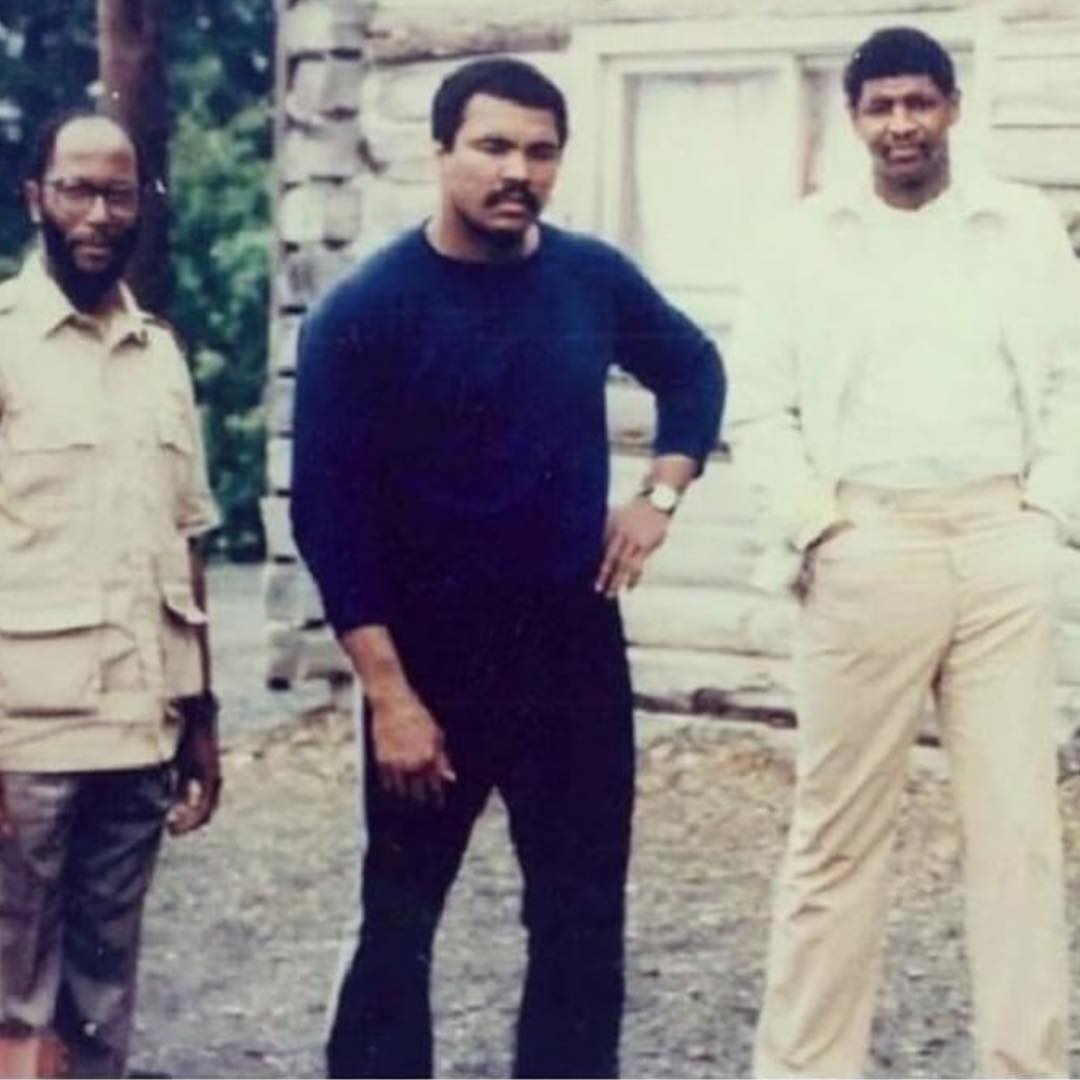 Above is a classic photo of Shamsud-din Ali next to another boxing legend, Muhammad Ali, who is flanked by a Philadelphia Black Mafia leader named Robert "Nudie" Mims.  Mims, also known as Ameen Jabbar, died in prison in 2012 while serving a life sentence for his role in one of the city's most infamous crimes.  In 1971, Mims and some of his Black Mafia confederates robbed DuBrow's Furniture Store in South Philly, killing one employee and setting many others on fire.  (The robbery/murder/arson is discussed @12:45 in the 2007 BET American Gangster episode,"Philly Black Mafia: 'Do for Self'.")  The above photo was likely taken while Mims was briefly out of prison following the May 1980 PA State Supreme Court granting of a retrial. 
Mims would soon be re-arrested after police executed a search warrant and discovered cocaine, a Thompson machine gun, an Israeli Army Uzi submachine gun, strainers, scales, and other drug-related equipment in his apartment.  When back in prison, Mims was crucial to major heroin deals in the Philadelphia area, working with Black Mafia and Italian-American organized crime figures.
Further information about the above can be found in Black Brothers, Inc.: The Violent Rise and Fall of Philadelphia's Black Mafia (Milo, 2007).
*****
On a different but related point I make at the end of the book, it remains remarkable how poorly a job media outlets do when it comes to African-American organized crime.  In this case, it was the seminal New York Post article which deprived its readers of vital context.  I have chronicled dozens of similar examples over my career, and this problem extends into academia and into Hollywood.  I recount my experiences in each of these areas in an Appendix of Black Brothers, Inc., and the common themes are political correctness and the fear of being labeled racist.  Depriving the public of important history is harmful to society in many ways, not least of which is the detrimental impact on informed public policy.  It also emboldens racketeers, who pray upon the public's ignorance.  As I wrote (p. 296):
At a time when there are more than enough legitimate issues pertaining to race – especially in matters of crime and justice – it is an outrage that prominent, influential members of society can so easily exploit this situation for their own benefit. It harkens back to the 1973 exchange between intrepid reporter Jim Nicholson and one of his primary street sources concerning whether Nicholson would be labeled a racist if he continued his path-breaking reporting on the Black Mafia. Nicholson was implored to stay on the assignment, and admonished by his African-American source: "Listen. If you never believe anything I say, believe this: You will not get any flak whatsoever from the black community, and if you do, it will be a few hustling cats."

The point he was making holds to this day: ordinary African-American residents are hip to the con artists, whether they're on the corner or in a City Hall office, and want to see hustlers exposed for what they are. After all, these folks in the community are the very ones being hurt by the scams. As the source confidently and correctly noted, those most likely to cry "racism" are precisely those with something – status, power, financial endeavors – to lose if the con is exposed.

If only relevant parties including academics and members of the media weren't so intimidated by the browbeating so shrewdly employed by these characters, which cows such investigators from covering these individuals and entities as they – properly, and without introspection about the propriety of the research – would if we were talking, for instance, about Italian-American mobsters aligning themselves with a labor union to, say, launder ill-gotten gains and pilfer pension funds.