Some comments about my involvement with the ESPN piece and my work on the NBA betting scandal
This is the definitive account of how Tim Donaghy conspired to fix NBA games — and how, in so doing, he unwittingly enriched an array of gamblers to the tune of likely hundreds of millions of dollars.
From the ESPN the Magazine article
The texts from friends and colleagues began within hours of "The Boardroom Issue" of ESPN the Magazine's release in mid-February.  Phone calls and emails soon followed joined by many more texts, and the correspondence only abated several days later: "Have you seen the article about Tim Donaghy/the NBA betting scandal? They stole your material/they didn't give you enough credit!"  The internet and social media are littered with a smattering of these sorts of reactions as well. 
When Scott Eden first contacted me in July 2017, I was of the impression ESPN wished to discover new aspects of the scandal as the 10th anniversary approached, and that my work (including and especially Gaming the Game: The Story Behind the NBA Betting Scandal and the Gambler Who Made It Happen [Barricade, 2011]) would serve as the foundation of the new research/angles.  It never occurred to me in the year-and-a-half of assisting Scott that the finished product would be (1) a repeat of my work (2) offered as his/ESPN's.
The never-before-told inside story of how Tim Donaghy conspired to fix NBA games. More today at 1pm ET on ESPN https://t.co/iL4ybfBWJr

— Outside The Lines (@OTLonESPN) February 19, 2019
In 2007, NBA ref Tim Donaghy pleaded guilty to betting on games he officiated.

It was never proved that he fixed them — until now: https://t.co/V24WzIgO7N

— SportsCenter (@SportsCenter) February 19, 2019
"You wanna get paid? Then you gotta cover the f------ spread."

This is the never-before-told inside story of how Tim Donaghy conspired to fix NBA games: https://t.co/6p4Tohv3vV

— ESPN (@espn) February 19, 2019
As someone actively engaged in public scholarship who routinely criticizes the media for poor reporting, I always feel obligated to assist persons who at least seem they're taking the time to "get it right" (a glimpse of my CV will illustrate the dozens of media entities I have assisted hundreds of times the past 20+ years).  Thus, I was glad to offer my insights and assistance when Scott reached out to me.  Unfortunately, the results of such well-meaning and often time-consuming endeavors are not always satisfactory.  In this case, beyond the factual and contextual errors, there is the issue of intellectual property.  The reason so many people privately contacted me and others posted online (including a few media folks [please see immediately below]) is because not a thing of significance re the scandal offered in the article was new, and all of it was detailed far more extensively in Gaming the Game (predictably so – it's a book, of course).
They did allude to it, but I felt like @spgauthor really didn't get his fair shake as being the guy who truly broke most of the details on this story... https://t.co/YEIR7UWOEz

— Gill Alexander (@beatingthebook) February 20, 2019
Note: Gill Alexander interviewed me about Gaming the Game years ago, and the audio was re-posted in reaction to the fallout from the ESPN piece.  You will note how many items and themes present in the February 2019 ESPN piece are discussed in the June 2011 Alexander interview of me.
Somewhere in our discussion, I determined that @TrueHoop is essentially the Carrie Mathison of NBA analysis. It'll make sense once you listen to the Full 48, I promise. Here's Henry on tanking, Donaghy, competitive balance and the state of the NBA union:https://t.co/co4mO6cTFp pic.twitter.com/hbPZqiPksm

— Howard Beck (@HowardBeck) March 1, 2019
Note: Henry Abbott, founder of ESPN's popular TrueHoop blog, reviewed Gaming the Game for ESPN.com when it was released in 2011. 
Hey that's great, but the Battista-Donaghy-fixing story was laid out in thorough detail in the 2011 book Gaming The Game by @spgauthor: https://t.co/QPPObxphql https://t.co/fjMyy1ZtyR

— M. Haubs (@mhaubs) February 19, 2019
Note: M. Haubs was formerly part of ESPN's TrueHoop network of blogs, and he wrote a comprehensive review of Gaming the Game when the book was published in 2011.
Adding insult to injury, I was disappointed hearing Eden recently tell a radio audience the NBA betting scandal was "…this big story that never really got gigantic treatment.  There was one very good book about the subject called Gaming the Game told largely from one of the guys' perspectives, Jimmy Battista.  But, otherwise, there were still these unsolved mysteries."  Each of the bolded aspects in that very brief quote is wildly inaccurate.
Regarding Gaming the Game being "told largely…from (Battista's) perspective," Eden knows this is not remotely true, in part because the book so overtly relies on volumes of hard data (confidential law enforcement files, court documents, betting records, betting line data) and on other interview subjects (Assistant U.S. Attorneys, FBI agents, various law enforcement personnel, pro gamblers, sportsbook managers, gambling experts, Battista allies and adversaries, and others) – as explicitly detailed in the book's source notes and in the acknowledgments – and especially because I was interviewed by Scott extensively on many occasions (in addition to significantly assisting him in other fashions).  For those unfamiliar with me, my research always relies first on primary source documents.  The study of organized crime is replete with poorly-sourced history and sociology, and thus my audiences always hear me speaking about the importance of data and of sourcing.  Undergraduate and graduate students actually learn research methods in my classes, and the law enforcement professionals, lawyers, and accountants who attend my various training sessions hear these basic points about this regardless of seminar topic.  To offer a sense of how seriously I view this issue, the first version of my Black Brothers, Inc: The Violent Rise and Fall of Philadelphia's Black Mafia (Milo, 2005) had 104 pages of endnotes in 8-pt, single-spaced font.
And regarding "unsolved mysteries," a reading of Gaming the Game will demonstrate no mysteries were solved in the ESPN article.  As I explained to Gill Alexander and his VSIN radio audience, the ESPN piece is entertaining and well-written, and thus worth a read; the issue is simply that I sacrificed much detailing this long ago and the material is presented as Eden's/ESPN's own.  Gill and I agreed that the relatively little new material, especially the reaction of NBA referees to the scandal and ESPN's attempt at reviewing Donaghy's 06-07 game calls, was interesting, but it was mere trivia compared to the bulk of the article discussing most fundamental aspects of the complicated and significant story – all of which had already been told in greater depth and with much-needed context.
Lastly, regarding "this big story which never got gigantic treatment," Gaming the Game received considerable media attention and wide-spread critical acclaim (see, e.g., below), and the book made various best-seller lists in 2011 (see, e.g., this from the Wall Street Journal):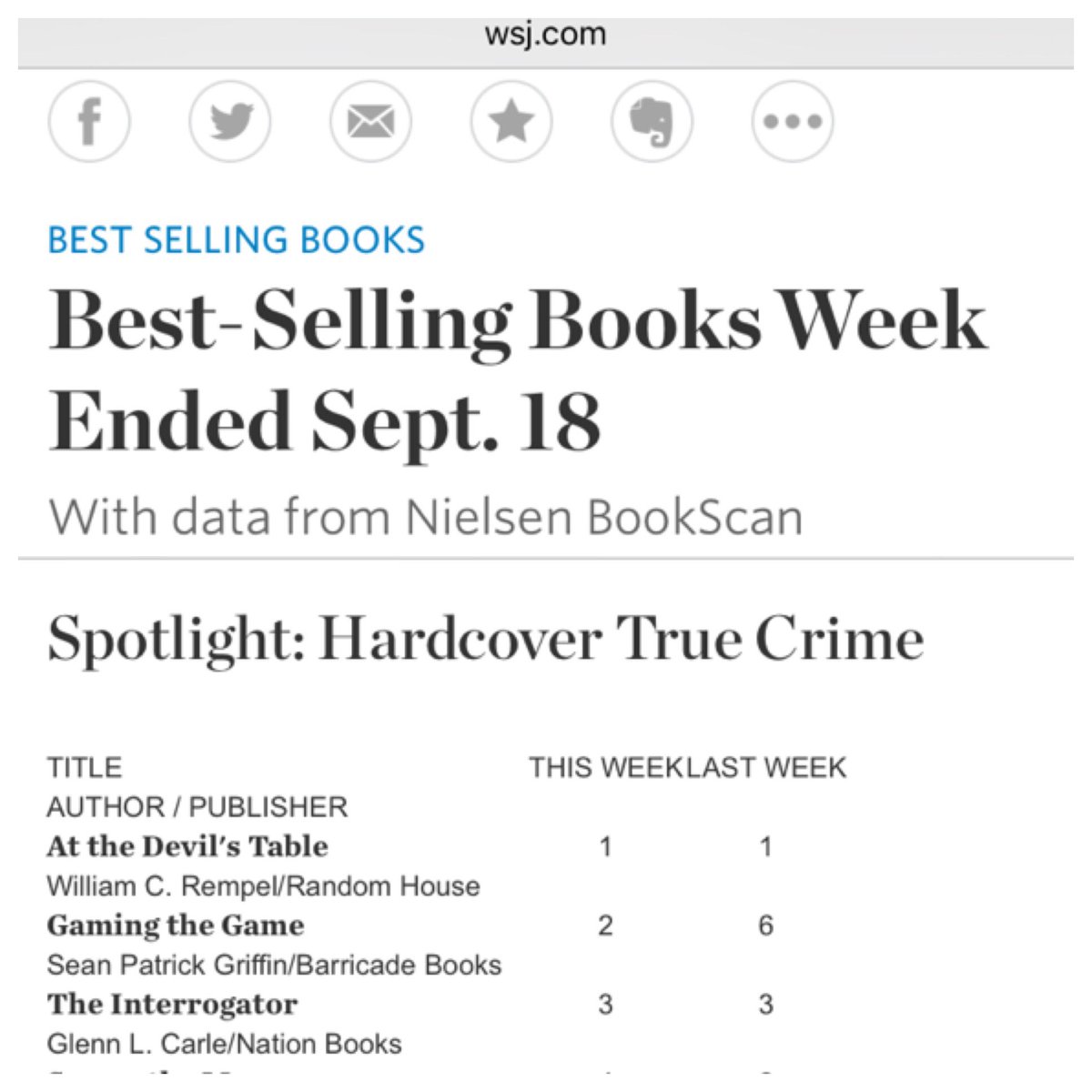 Formal reviews of Gaming the Game:
"impeccably researched…insightful…[Griffin's] street-wise writing sounds anything but academic…After reading 'Gaming the Game,' you'll never watch an NBA contest the same way again."
Las Vegas Review-Journal
"[Griffin] straddles the line between academic and storyteller, cop and journalist…[Gaming the Game] will blow your mind."
 Philadelphia Magazine
"An exhaustively researched book threatening to overturn some 
comfortable assumptions about the NBA's referee scandal …
[Gaming the Game] delivers the intrigue you'd expect from 
a true crime thriller"  
ESPN.com's True Hoop
"Offers a fascinating look into the Donaghy scandal … intriguing"  
Philadelphia Daily News
"[This] important new book … offers a full picture of how 
the world of big-time sports gambling operates" 
 The Painted Area (an official ESPN.com NBA blog)
"A book you can bet is worth reading…
fascinating…a complete effort"
Delaware County (PA) Daily Times
"Few people are as qualified as Griffin to write this book…[his] scholarly background is evidenced in his research, which is flawless, a remarkable feat considering the subject matter…If you've ever wanted to know how the big-money betting outfits work, this is the book for you. If you've ever wondered about the true story behind the Tim Donaghy scandal and how much of the truth are we being told, this is also the book for you. Griffin gives readers the best of both worlds with Gaming the Game. His academic background ensures that readers will get all of the information that they need, but he is also a gifted story teller and writes in a way that will have you glued to the pages. This is easily one of the best books ever written about the sports betting scene and will give you a first-hand look at the biggest scandal to ever hit the NBA."
About.com
"Griffin curates FBI files, interviews, statistics and court documents, providing a narrative so vigorous and complex that readers are practically courtside.  The cast of characters — bookies, refs, cops, and the infamous Donaghy — come to life like players in a true crime novel"
 Biographie
"a tremendous read…fascinating…gripping…a must read for any bettor serious about the global marketplace…by far the most believable [account of the NBA betting scandal]"
Covers.com
"If you've ever wondered what the REAL story was behind Tim Donaghy and the NBA betting scandal, this is a must read…If you're interested in sports betting, you won't be able to put [Gaming the Game] down"
Bettors World
"compelling [and] many leveled…the research behind Gaming the Game is impressive…Griffin's knowledge of the crime scene in and around Philadelphia illuminates Gaming the Game…He's a fluid, crisp writer and an A-1 historian of crime [who] combines an eye for human detail with the ability to convey broad social themes."   
Blogger News Network
"An outstanding read that might make you change the way you view professional sports."
Beyond the Bets
"A riveting story…fascinating…just a great book."
Pregame.com
"Griffin's investigation into big time gambling is fascinating…
Highly Recommended"
Gambling Book and News
Other praise for the work:
"A great read…Go pick up a copy of Gaming the Game" – Michael Barkann, Comcast SportsNet Philadelphia /Sportsradio 94WIP
"An exhaustive study…The ultimate rejection of Tim Donaghy's lies…I highly recommend you grab this book" – Dwight Jaynes, Comcast SportsNet Northwest
"Remarkable…A must-read, especially for NBA fans…Great research…Griffin does a great job of exposing Tim Donaghy…fascinating" – Chad Doing, "The Morning Sports Page" program on 95.5FM/750AM The Game (Portland)
"Outstanding…You've got to see this book…fascinating" – "Open Mic Daily" program on 97.1FM/1400AM ESPN Radio (Spartanburg)
"Heavily researched, heavily footnoted…The definitive book on the NBA betting scandal" – John Karalis (Red's Army)
"Absurdly fascinating" – Isaac Ropp of the "Primetime with Isaac and Big Suke" program on1080 The Fan, ESPN Radio (Portland)
"Great stuff" – Dom Giordano, 1210 WPHT The Big Talker(Philadelphia)
"A terrific book…I enjoyed it immensely" – Joshua Halickman, "The Sports Rabbi"
"A fascinating read" – "The Opening Drive" program on Jox 94.5FM(Birmingham)
"I couldn't put this book down" – Greg Rasheed, 88.5FM/1390AM KGNU (Boulder/Denver)
"A fantastic read…fascinating stuff" – Mike Richards, "The Mike Richards Show," TSN Radio
"Very comprehensive" – Soren Petro,"The Program," Sports Radio 810 WHB (Kansas City)
"Really interesting…well-researched…fascinating" – Adam Levitan (Metro columnist, Rotoworld NFL/NBA writer)
"A must read…Very interesting" – Pat Williams, Don Best TV
"I strongly urge people to go out and get this book…really fascinating stuff " – Gill Alexander (" The Betting Dork," Pregame.com)
"Fascinating…well-written…illuminating" – Crime Beat
"Fascinating stuff" – "Prime Time Sports" program on SportsNet Radio 590 (Toronto)